About Futura Flooring Transitions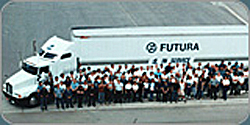 The most important asset we have is our reputation. We sell metal products. Our customers get: Reliability and Responsiveness. (and metal products!)
We are manufacturers of aluminum extrusions. We are providers of outstanding quality in both products and customer service.
Everyone says these things, but we really are a very different kind of supplier.
Futura Industries has a highly motivated workforce ready and willing to produce your custom aluminum extrusion products just the way you want them. We have a workplace culture that seeks out the best from both team and individual talents.

THE HISTORY OF FUTURA INDUSTRIES

Futura Industries fits the definition of "evolution" quite precisely. The story began in the early 1930's, during the early part of the great depression, when earning almost any kind of a living became an accomplishment.

The first knowledge of the business began, not with aluminum extrusions at all, but with a product known as colfonite. Aluminum extrusions didn't come into play until the mid 1940's. It was then Frank Hobbs formed a company called Colotyle. A demand began to emerge for moldings, separate from Colotyle, so a new corporation was formed to buy and sell moldings. The new corporation was named the Colotrym Company. During 1946 and 1947, face metals, coving, staircase metal, carpet bar and other shapes were added. But a competitor to stainless steel molding began to appear, extruded aluminum, which had been developed during the war, was less expensive than stainless steel and it was finding a market in the area.

By the mid 1950's, Colotrym had moved its operations to Seattle and installed it's own extrusion presses.

By 1964, Frank Hobbs had reason to be proud of the Colotrym Company. His organization was extruding some 2,000 different shapes or lengths of product. During the same year another chapter in the evolution of Colotrym was unfolding. Bob Hansberger put a bid in on Colotrym and purchased the company. Mr. Hansberger added Colotrym to his business. "Futura" is what he called it because he wanted Futura to become an operator of businesses.

Futura's sales doubled from 1964 to 1970. A distribution warehouse had been established in Clearfield, Utah which made delivery to California and Midwestern markets much more efficient. It was becoming more apparent that the single 750-ton press in Seattle was being strained beyond its capacity.

In 1972, Colotrym installed an additional new 1,000-ton extrusion press in the Seattle plant and by 1975 sales had almost doubled again. By this time, experience had shown that the warehouse in Clearfield was proving to be very gratifying. After several months of study, the decision was made to establish a second manufacturing plant in Clearfield. That plant was in operation by August of 1976. Over time, the manufacturing facility in Seattle was proving to be less productive and the manufacturing facility in Clearfield was getting better and more efficient. The building space appeared adequate, and the business climate in Utah was excellent. The decision was made in early 1979 to move all of our manufacturing to Clearfield. At the end of July, 1979 the move from Seattle began - it was completed about 3 months later. To this day, operations continue to flow from Clearfield, Utah to customer locations throughout the world.

The evolution of Futura continues even to this day as we strive to find better ways to serve our customer base. The company is now known as Futura Industries and our mission is Extraordinary Value Through Extrusions.
---
---